In this presentation GNSS market is analyzed in several aspects, which are currently very relevant for the economy.
GNSS in general
GNSS are some infrastructures for determination of position, velocity and time by processing satellite signals.
GNSS is formed by different constellations as GPS, GLONASS, Galileo, BeiDou (Compass)… Nevertheless, if we talk about GNSS we refer to augmentation systems too. There are different augmentation sistems available depending on the area:
EGNOS (Europe)
WAAS (North America)
GAGAN (India)
MSAS (Japan) …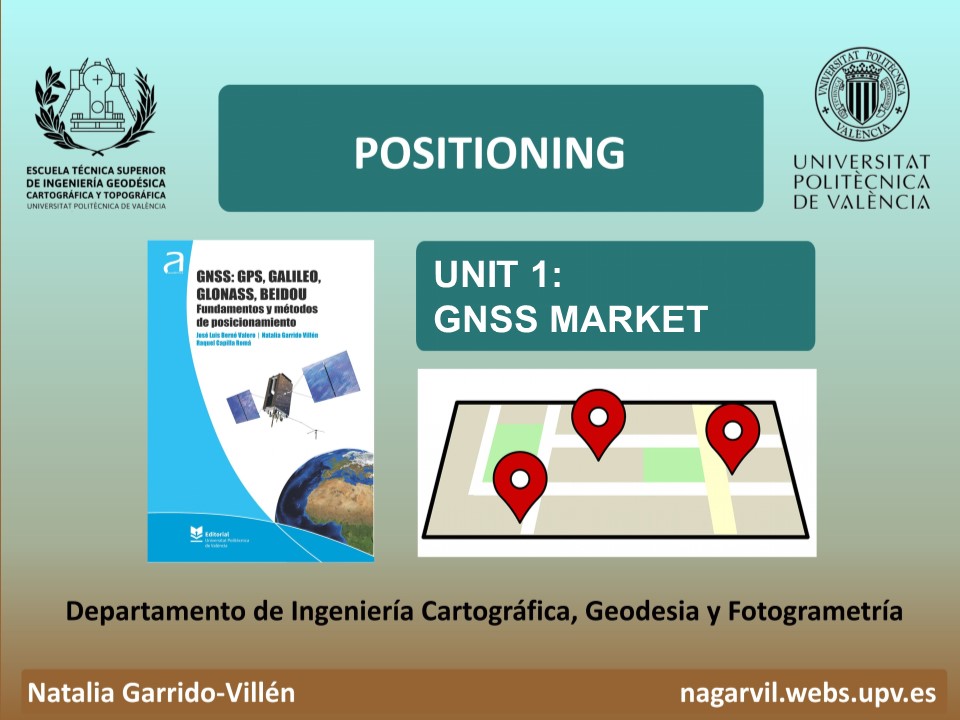 Any GNSS has to have the next characteristics:
AVAILABILITY.

Number of available satellites.

PRECISION.

Difference between calculated and real solution.

CONTINUITY.

Ability to provide the required performance without interruption.

INTEGRITY.

Confidence about the information provided.
GNSS market
The GNSS downstream industry consist mainly on:
Component manufacturers, for stand-alone use or integrated.

Chipsets, antennas and safety beacons, …

Systems integrating GNSS into larger products.

Vehicles, consumer electronics, …

Value-added service providers.

Map providers, augmentation service providers and GNSS calibration or testing activities.
Integration of sensors.
Multipurpose devices using software.
And the trend is that GNSS will be used in order to replace small hardware items by just including a chip. The development of applications on smartphones has done easyer the integration of positioning techniques.
Some sectors where GNSS has become fundamental are:
Location-based services. (LBS)
Road.
Aviation.
Rail.
Maritime.
Agriculture.
Surveying and Geodesy.
Timing & synchronisation.
As an example, location-based services (LBS), that are used on:
Navigation:

Route planning and turn-by-turn instructions.

Mapping & GIS:

Smartphones enable users to become map creators.

Geo marketing and advertising:

Create market opportunities.

Safety and emergency:

GNSS, in combination with network based methods.

Enterprise applications:

Mobile workforce management and tracking solutions.

Sports:

Monitoring of users' performance.

Games and augmented reality:

Positioning and virtual information are combined.

Social networking:

Friend locators to help keep in touch and share information.